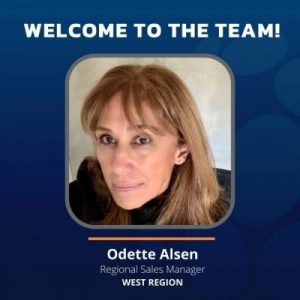 VIM Technologies is pleased to announce Odette Alsen as the new Regional Sales Manager for the West Region. Odette will provide sales and support for customers in California, Oregon, Washington, Montana, Idaho, Nevada, Utah, Arizona, Hawaii, and Alaska.
Odette brings over two decades of experience in business development and consulting engineering. With formal training in chemical and environmental engineering, she has spent her career in all facets of the environmental engineering field ranging from site remediation, water and wastewater treatment, air pollution control, and regulatory compliance. Her most recent experience has included consulting engineering and regional sales with an emphasis on the oil and gas sector and environmental monitoring.
A graduate of Loyola Marymount University in Los Angeles with a degree in Environmental Engineering from Seaver College of Engineering, Odette currently resides in California. Odette is a member of the local chapter of Air and Waste Management Association.
Odette enjoys taking on new challenges and participates in volunteer activities with non-profit organizations, including the Los Angeles Foreign Affairs Council, local arts education centers, and several animal welfare organizations. She is passionate about STEM education and believes in the importance of inspiring more girls and women to pursue careers in the tech industry.