Updated Original Post Dated: November 14, 2018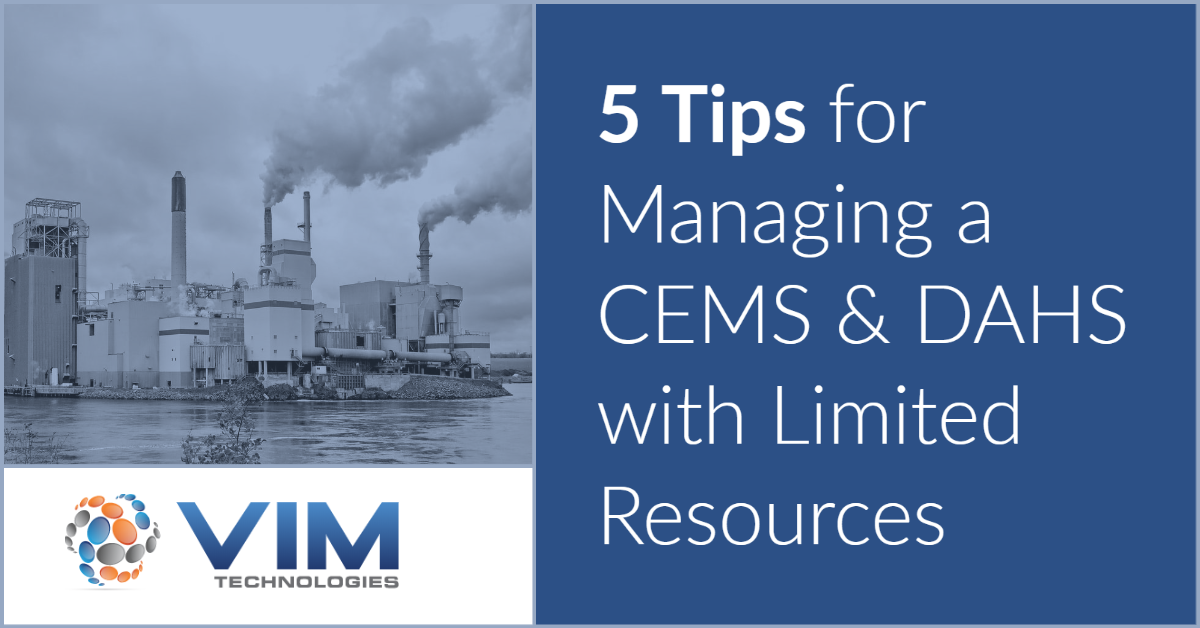 VIM Technologies recognizes the complications that come with managing a Continuous Emissions Monitoring System (CEMS) and Data Acquisition and Handling System (DAHS) with limited resources. Outside of our flagship products CEMLink 6 and COMPAS, designed specifically for the collection, monitoring, management, and reporting of plant emission data; we are constantly looking for innovative ways to improve systems management for our clients and colleagues. Here are five tips our team has put together for combating resource challenges at your workplace:
1.) Utilize Management Systems:
When it comes to organizing the roles and responsibilities of your team, vendors, contractors, plant staff, and other personnel, it is imperative to have a structured action plan with assigned duties and strict schedules. Tools such as SAP and other work order software can be useful. Automated notices through Emission Management System (EMS) software helps streamline personnel and project management processes.
2.) Maximize Time:  
In addition to management systems, automated reports can save you time that can be allocated elsewhere. Creating daily, weekly, and monthly tables that automatically filter in information saves on data entry time. Setting DAS alarms that can be sent as an email or text can help notify your team of downtime and excess emissions, communication failures, PLC failures, analyzer errors, calibration gas pressures, and calibration failures. Automated reminders are also useful for staying on top of QA events (CGA, QGA, ACA, BH Inlet Thermocouples), gas bottle expiration dates, and regular CEMS maintenance events. Automated reports, alarms, and notifications are perfect solutions for staying on task and tackling issues as they arise.
3.) Revisit the Budget:
It can be beneficial to revisit your funds on a quarterly basis, or even more frequently. Completing a regular financial analysis of expenses can illuminate if funds can be more optimally allocated. Repairing or replacing old equipment with the latest and most efficient available can improve operations. Calibration gas usage and inventory, expendable supplies, and maintenance contracts are all other components of a budget that offer the opportunity for savings when revisited.
4.) Cross-train Staff:
There is nothing more frustrating than not being able to complete a procedure or task because the team member who normally does it is out sick or on vacation. For this reason, it is crucial to cross-train staff on various procedures. Structuring your organization as a highly compartmentalized body leads to over-reliance on certain team members. Developing an annual training plan and sponsoring monthly lunch and learn events are two ways to share knowledge across disciplines.
5.) Document Everything:
When you spend a significant amount of time streamlining systems and personnel management, it is in your best interest to document what works and what doesn't so a more thorough plan can be implemented in the future. Additionally, when it comes to managing CEMS and DAHS systems, creating measurable metrics like excess emissions or calibration failures, allows for easy analysis and regulatory compliance.
Operating on limited resources, whether personnel or funding, is never an ideal situation but there are ways to alleviate some of the challenges. From optimizing operations by utilizing alarms and notifications to dispersing industry knowledge and skills throughout our team, it is possible to achieve desired workflow processes and emissions compliance.
We hope you found these CEMS and DAHS management tips helpful and can integrate them into your own operations strategies! If you have any questions about this post or would like to discuss how VIM Technologies can help you with emissions monitoring, please contact us here. Additionally, if you are looking for more helpful resources, please visit our blog or attend one of our upcoming webinars!