On June 8, 2020, the U.S. Environmental Protection Agency (EPA) finalized amendments to the 2004 National Emission Standards for Hazardous Air Pollutants (NESHAP) for Plywood and Composite Wood Products (PCWP).
The EPA then published the final residual risk and technology review (RTR) conducted for the PCWP on August 13, 2020.  The EPA determined that PCWP facility air emissions risk is acceptable and that the NESHAP standards continue to provide an ample margin of safety to protect public health. However, the EPA made several revisions and clarifications to the PCWP NESHAP requirements to enhance the rule's effectiveness by improving compliance and implementation and increasing the efficiency of data submissions.
As a result, all Wood Products and Composite Wood Panels manufacturing facilities like plywood, oriented strand board, particleboard, medium-density fiberboard, softboard, hardboard, veneer, laminated veneer lumber, engineered wood panels, etc., and are subject to Plywood and Composite Wood Panel Maximum Achievable Control Technology (PCWP MACT, 40 CFR Part 63, Subpart DDDD), must comply with the new PCWP MACT requirements effective August 13, 2021.
List of Regulated Process Units and Work Practices required under the 2004 PCWP MACT
Fiberboard mat dryer heated zones (at new affected sources
Green rotary dryers
Hardboard ovens
Press predryers (at new affected sources)
Pressurized refineries
Primary tube dryers
Secondary tube dryers
Reconstitute wood product board coolers (at new affected sources)
Reconstitute wood product board presses
Conveyors strand dryers (zone one at existing affected sources, and zone one and two at new affected sources)
Softwood veneer dryer heated zones
Rotary strand dryers
Work Practice Standards for:

Dry rotary dryers
Hardwood veneer dryers
Softwood veneer dryers
Veneer redryers
Group 1 miscellaneous coating operations
Typical Regulated Process Units and Controls
Depending on the source category, the PCWP MACT regulated sources or process units include:
Veneer Dryers used in the plywood and EWP manufacturing,
Rotary Dryers used in PB and OSB,
Tube Dryers used in MDF and HB and
Board Presses used in PB, OSB, MDF, HB and EWP
Depending on the process unit exhaust flow and temperature, facilities may select between RTO/RCO, biofiltration or boiler to control the HAP or VOC/THC from the regulated process units.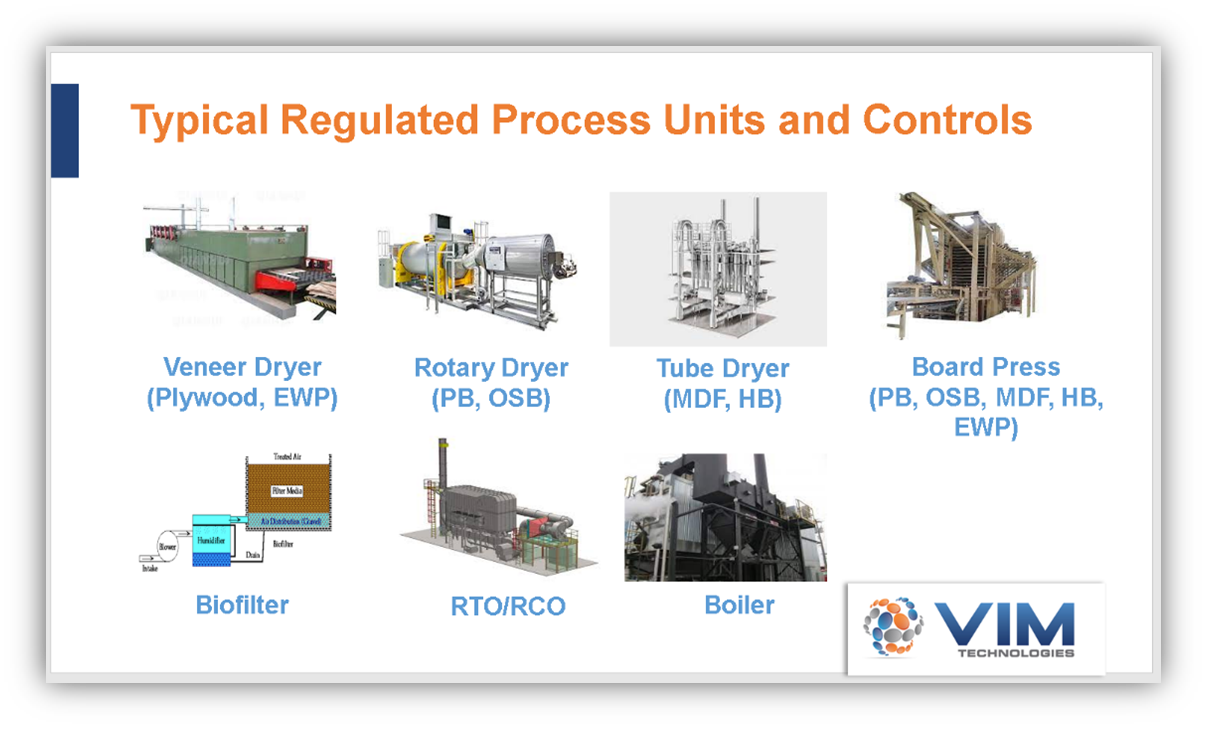 ---
8 Significant Revisions and Additions to the PCWP MACT RTR Rule
1. Startup, Shutdown, and Malfunction (Additions)
In 2008, a court decision determined that the Startup, Shutdown, and Malfunction (SSM) exemptions were illegal and ruled that the standards must apply at all times. The EPA removed the SSM exemptions from the General Provisions and PCWP MACT with the RTR final rule based on this ruling.
The EPA will not require the SSM Plan after August 12, 2021. However, affected facilities must meet Work Practice criteria for Startup and Shutdown as listed under the new Startup and Shutdown Work Practice requirements, effective August 13, 2021.
The new requirements for Startup and Shutdown include
Safety-related shutdowns,
Startup and Shutdown of pressurized refiners, and
Relights of gas burners in softwood veneer dryers.
Facilities must record work practice procedures and report when Work Practices are used, with more detail to be provided in the report if a Work Practice is used more than 100 hours during the reporting period. EPA also added a general duty clause for minimizing emissions – essentially, "You must operate and maintain the affected source in a manner consistent with safety and good air pollution control practices for minimizing emissions."
2. Safety-Related Shutdown (Additions)
A safety-related shutdown is defined as an unscheduled shutdown of a process unit subject to add-on control requirements, during which time emissions cannot be safely routed to the control device.  To qualify for this work practice, affected facilities must follow the documented procedures, stop the flow, and remove material quickly to protect workers and equipment.  This step is usually done with the use of process interlocks to minimize delays and operator error.  In addition, facilities must maintain records to show that these work practice requirements and procedures are being followed.
3. Temperature Requirements (Revisions/Additions)
There have been cases where the State agency has interpreted "electronic calibration' to be a physical adjustment to the thermocouple – like moving a knob on an instrument. So, the requirement to conduct "Electronic calibration" was replaced with "validation of temperature sensors." The requirement now is to validate the temperature sensors using 1 of 5 of the following validation procedures:
Compare measured readings to a National Institute of Standards and Technology (NIST) traceable temperature measurement device or simulate a typical operating temperature using a NIST traceable temperature simulation device. When the temperature measurement device method is used, the sensor of the NIST traceable calibrated device must be placed as close as practicable to the process sensor, and both devices must be subjected to the same environmental conditions. The temperature measurement accuracy must be 2.5 percent of the temperature measured by the NIST traceable device or 5° F, whichever is greater.
Follow applicable procedures in the thermocouple manufacturer owner's manual.
Request thermocouple manufacturer to certify or re-certify electromotive force (electrical properties) of the thermocouple.
Replace thermocouple with a newly certified thermocouple in place of validation.
Permanently install a redundant temperature sensor as close as practicable to the process temperature sensor. The sensors must yield a reading within 30° F of each other for thermal and catalytic oxidizers, within 5° F of each other for biofilters, and within 20° F of each other for dry rotary dryers.
The procedure to establish Biofilter Bed Temperature was also revised. The temperature range must be established as the temperature values 10 percent below the minimum, and 10 percent (not to exceed 8⁰ F) above the maximum 15-minute biofilter bed temperatures monitored during the three test runs.
4. Definitions (Revisions/Additions)
EPA revised the definitions of Non-HAP Coating and Representative Operating Conditions.  Non-HAP coating means a coating with HAP contents below 0.1 percent by mass for Occupational Safety and Health Administration-defined carcinogens as specified in section A.6.4 of appendix A to 29 CFR 1910.1200, and below 1.0 percent by mass for other HAP compounds.
The OSHA regulations were amended in 2012 and the regulatory reference to carcinogens was moved to Appendix A of 29 CFR 1910.1200 thus prompting the need to make the correction in the PCWP MACT which made reference to a specific section of the previous OSHA Hazardous Materials Communications Standard.
Facilities must describe representative operating conditions in the performance test report for the process and control systems and explain why they are representative. Facilities must record the process information that is necessary to document operating conditions during the test and include in such record an explanation to support that such conditions are representative. EPA clarified that representative operating conditions exclude periods of startup and shutdown.
EPA added the definition for "safety-related shutdown" which we discussed earlier in this article .
5. Testing Requirements (Revisions & Additions)
EPA added Revisions to Table 7 to require repeat testing every five years for process units controlled with RTO/RCO/TCO.  The first of the 5-year repeat tests is required within three years of the final rule publication date or within 60 months after the previous performance test, whichever is later.
A capture efficiency demonstration will be required when conducting a repeat performance test if you have a press enclosure.
An annual catalyst activity check is not required during calendar years when a performance test is conducted.
The submittal of a Notice of Compliance Status (NOCS) report will be required with repeat performance testing.
6. Recordkeeping Requirements (Revisions & Additions)
The PCWP MACT and the general provisions require recordkeeping of compliance records for five years.  EPA added the following to the recordkeeping requirements:
Each occurrence and duration of startup or shutdown events that causes source to exceed emission limitation.
Each occurrence and duration of malfunction of operation or air pollution control.
Continue use of the SSMP (until August 12, 2021) to satisfy recordkeeping requirements for identification of malfunction, correction action taken, and nature of repairs to CMS.
Written procedures for the Work Practices.
CMS QC Procedures (must keep for the life of the affected source)
Documentation supporting the definition "representative operating conditions" for when performance testing is conducted.
Electronic reports submitted to EPA via CEDRI. Including notifications.
7. Electronic Reporting Requirements (Additions)
Electronic reporting is now a standard requirement in new MACT standards and those MACT standards going through the Residual Risk and Technology Review.  EPA added the requirement to submit compliance reports to the EPA via the Compliance and Emissions Data Reporting Interface (CEDRI).  This includes the following reports:
Initial notification of Applicability
Notifications of Compliance Status (NOCS)
Notification of Performance Testing.
Emissions test results and CEMS performance evaluation test.
Semiannual compliance reports
8. Semiannual Compliance Report
The EPA uploaded into CEDRI the PCWP MACT Compliance Report Template (Excel Spreadsheet) on October 9, 2020, and updated on July 28, 2021 (63.2281 semiannual_compliance_report.xlsm (V2.01) (xlsm).  The rule requires that the EPA template be used for electronic reporting once the template is published, which means that facilities must use the EPA Template after October 9, 2021.
The first semiannual compliance report using the EPA Template to be uploaded into CEDRI will cover August 13, 2021 – December 31, 2021, and from January 1, 2022 – June 30, 2022, and due by July 31, 2022.
For more on Excel Add-In and CEDRI reporting requirements, read VIM's article in December's World Cement Magazine
---
How VIM Technologies Can Help
If your facility is subject to the new PCWP MACT requirements, review the final rule to determine how the revisions affect your plant or contact us for compliance assistance. VIM Technologies stands ready to help affected sources navigate the new PCWP MACT, 40 CFR Part 63, Subpart DDDD requirements.
VIM's COMPAS team has over 160 years of combined CEMS and regulatory experience, including specific PCWP MACT  expertise. We can assist with preparing, reviewing, and/or electronic submittal of the semiannual compliance report. We can also help design and configure a new DAS and automate the data collection, validation, and reporting using VIM's state-of-the-art software CEMLink6 and its Excel Add-In tool to manage compliance with the new PCWP MACT requirements.
Get free access to VIM's webinar video recording of Managing The Impact of the Plywood and Composite Wood Products (PCWP) MACT Revisions by visiting the VIM Technologies Previous Webinar Page.
Contact us today at COMPAS@vimtechnologies.com for a complimentary consultation.