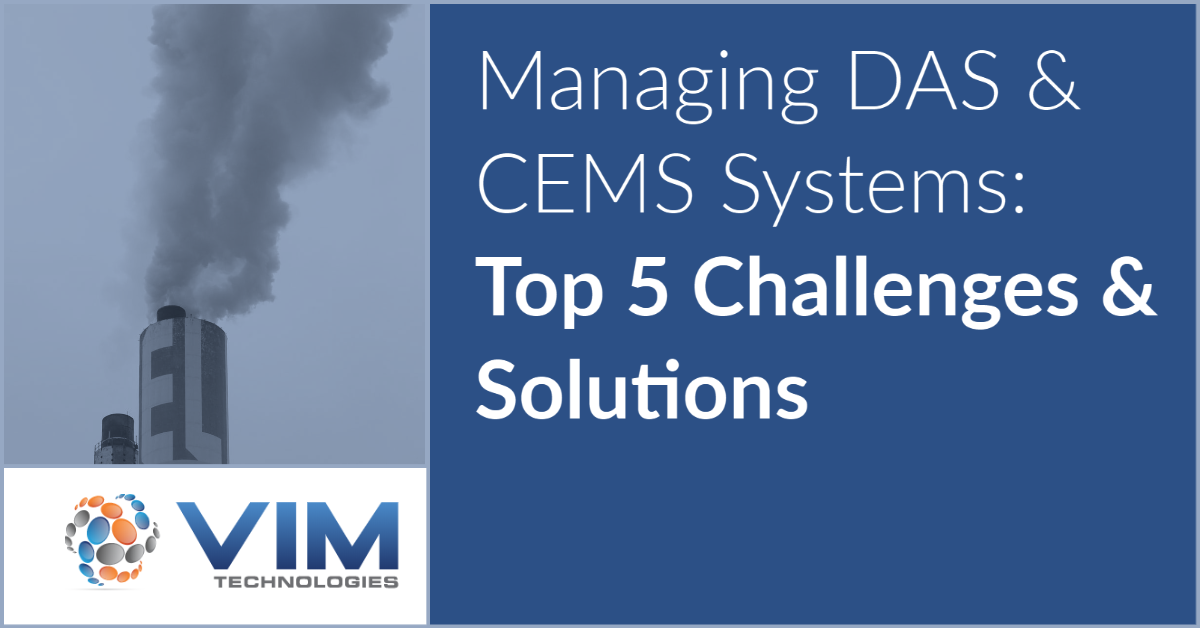 Updated Original Post Dated: April 23, 2019
Compliance Managers can only be effective if the data they're accessing is current and thorough. Multiple regulations coming into play, outdated DAS, or incomplete testing are just some of the many challenges Compliance Managers face.
When overcoming these challenges, if you document the solutions the lessons learned can be invaluable tools for future reference and training new employees. With that in mind, we've assembled the top 5 challenges faced when managing DAS and CEMS systems — and recommended solutions to address the issue.
Challenge: Late or Incomplete QA Test
Solution: Be Proactive with Tracking QA Test Deadlines
Missed or incomplete testing can result in excessive downtime. Excessive downtimes can be very expensive for sources in trading programs such as ARP, SIP, CSAPR, and RGGI. One way to combat these challenges is to be proactive with tracking QA test deadlines – don't wait for ECMPS to tell you. Having a thorough understanding of what qualifies for an extension and/or grace period can help ensure you're conducting and submitting information on time.
The CEMLink 6 compliance calendar and QA test deadline features allow users to track and monitor Part 60 ongoing QA tests in addition to inspection and site-specific operating limits (SSOL) required by many MACT regulations. Learn how to use these helpful tools in this pre-recorded webinar, available for download here.
Challenge: Managing Compliance with Multiple Regulations
Solution: Utilize Harmonization among Programs
Combustion units are typically subject to multiple air regulatory programs. More often than not, different rules require different validations, averaging, calculations and/or reporting. Steps you can take to address this problem include fully understanding your company's compliance obligations (NSPS, NESHAPS, Title V), determining if "harmonization" is permitted among the various programs, and checking DAS documentation and the QA/QC Plan to make sure you're in compliance with all necessary validation and ongoing QA tests.
Need help with the fundamentals of a CEM QA/QC plan? Download a pre-recorded webinar on CEM QA/QC Plan Fundamentals here.
Challenge: CEMS Measurements "Pegged" at Full-Scale Range of Analyzer
Solution: Review DAS Programming, Correct Hardware or Software Limitations
When CEMS measurements are "pegged" at the full-scale range of the analyzer it can not only be frustrating but also a compliance issue. Additionally, it may be problematic when systems are unable to measure and record negative readings. Beyond researching and understanding your compliance obligations, you can review your DAS programming. Correct any hardware or software limitations that have been preventing recording when required. You may find it's time to upgrade your DAS.
Challenge: Fuel Flowmeter Operation Issues
Solution: Verify Calculations with Engineering and Programming, Reality Checks on Data
There are several challenges that can afflict proper fuel flowmeter operations. One issue could be your initial certification documents are missing, incomplete, or don't meet Part 75 requirements. Another common issue is default or inaccurate constants preloaded into the flow computer or DCS. You may even discover that the measurement and/or scaling of signals to your DAS are incorrect. Resolutions to these challenges include holding the EPC accountable and tracking down the necessary information, coordinating with engineering to verify calculations and programming, and performing a reality check on data.
Challenge: CO2 Control Chart Inquiry
Solution: Run the Data Preemptively to Ensure Proper Alignment
No one wants to receive an email from their Regional EMB Analyst that articulates you have had a sample line leak and potentially under-reporting emissions. It's equally discouraging to fail the EPA's CO2 control chart check, especially for sources in an emission trading program. Combat these challenges by running the data before the EPA even sees it to make sure it's properly aligned. Study the test to have a more robust understanding of it and be communicative with your technicians. Be ready to state your case!
The best way to learn and implement these management tactics is with the support of a team that understands the challenges you face. Discover how VIM's COMPAS team can support you.