At VIM Technologies, we are proud to have a team with a passion for data acquisition and environmental regulations compliance, and a diverse skill set to meet our clients' needs. Our sales team works tirelessly to communicate with organizations that have the need for our software and services throughout the United States and abroad. For those who are in the market for the premier solution to data gathering and reporting, take a moment to learn about the sales manager for your region.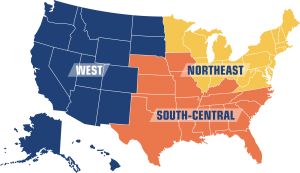 Rebecca Cate
|
South-Central Regional Sales Manager
Becky is a graduate of the University of Tennessee, Knoxville with a bachelor's in Physical Geography. She joined the VIM team in 2018 with 20 years of sales and account management experience in the environmental compliance industry. In previous positions, she focused on DAS solutions and finding EHS compliance solutions. With VIM, Becky is responsible for providing solutions to new clients and serving as an account manager for existing clients.  
Phone: 410-859-5455 ext. 4044
Email: Rebecca.Cate@vimtechnologies.com
Matthew Swanson
| West Regional Sales Manager
Matt graduated from the University of California, San Diego with a diverse academic background. Matt's 20 years of experience in the gas analyzer and emissions systems industry includes roles such as lab manager, field service, technical support, analyzer/software/system designer, product development, project manager, and domestic and international sales. His extensive knowledge is utilized in his role with VIM to provide new and existing clients with expert solutions.
Phone: 410-859-5455 ext. 4037
Email: Matt.Swanson@vimtechnologies.com 
Lawrence Fisher
| Northeast Regional Sales Manager
Larry graduated from Indiana University Bloomington with a bachelor's in Public Finance. In his 10+ years in the environmental software industry, Larry has been a consultant for air emissions monitoring and stack testing, project manager, and developed a CEMS rental division for a previous employer. His most recent role involved selling multivariate statistical software used in process intelligence applications for bio-pharma.
Phone: 410-859-5455 ext. 4045
Email: Larry.Fisher@vimtechnologies.com
Andrew Rothenberger
| International & National Sales Director
Andy has been part of the VIM family since 2008 and is a member of the management team after having held a Regional Sales position for several years. He is a graduate of Pennsylvania State University with a bachelor's in Business Administration and 17+ years of experience in sales management roles. Andy oversees all national sales, as well as Canada and Mexico.
Phone: 610-828-2001
Email: Andy.Rothenberger@vimtechnologies.com
If you're interested in learning more about CEMLink6's applications to your organization please contact our office or your regional sales representative.